Online reviews are gold dust in terms of off site SEO and can be difficult to obtain. Sometimes it can be awfully hard to get customers to leave reviews, even if you beg them for feedback. But, when you have a system that works and are starting to get online reviews, it doesn't just stop there; you need to respond to them too.
This inevitably shows that you care about people leaving reviews, that you're trying to fix and issues that are brought up and that you appreciate each individual's business. In this article we'll discuss how best to respond to bad reviews and how to respond to good ones, too.
Responding to bad reviews
So you've had a bad review, just like this one:
It definitely hurts, not only seeing your overall rating go down, but reading something so damning about your business. The first lesson here is to not respond straight away. You're likely upset, or angry, or personally offended by the review and you don't want to write a response that's fuelled by any of those emotions. You want to be professional, understanding and helpful, not angry and bitter. There are many reviews online where people have responded straight away with anger and they look like this:
This is most definitely not the way to respond to bad reviews. If you are finding yourself getting angry, passive aggressive or just plain aggressive then you need to take a step back. You don't need to respond to your negative review right away; you can leave it a day or so to fully calm down and assess the situation. The reviewer may have a good point, or may highlight something that you've never considered before, and even if they don't, you should take what they've said on board. You don't want a repeat of this bad review if it's something that's easy to fix!
A good reply to a bad review is something like this: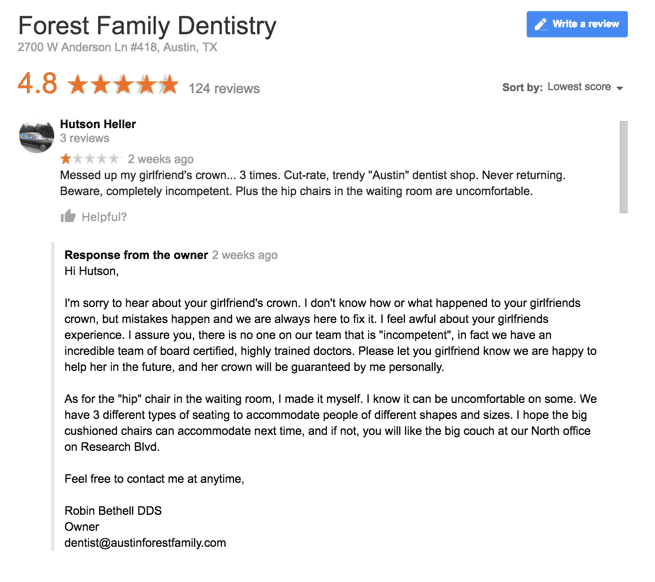 This is the perfect answer to a negative review: not only are you apologising for the issue, you are offering a personal response to the customer. You are standing up for yourself - though you should temper how much you do this, as you don't want to seem like you are telling the customer "you're wrong" - while letting them know that you are open to continue the conversation. Here, you can take the conversation offline, then, when the issue is resolved, as them to leave another review to let people know what happened. That turns a negative into a positive.
Of course, sometimes a reviewer won't come back, or won't want to continue the conversation and that's a real pain, but there isn't a lot you can do about this. As long as you've responded to the review, people can see that you're being proactive about it and listening to what your customers have to say - good and bad. Though it may bring your rating down overall, the fact that you've replied to the negative review the right way shows something positive about your customer service.
Responding to good reviews
Here is a fantastic response to a positive review that shows a personal, friendly and engaged answer:
As you can see, the owner is pinpointing exactly what the reviewer said, responding to them individually and taking into account what they're saying. This is a really good response and shows that you care about your customers and are thankful for not only their business, but the positive things they have to say.
Responding to positive reviews may seem a little odd, but it's key that you show that you're looking at your review page often and that you appreciate every individual who's come to leave a comment. It's not only good for potential customers to see, or good customer service, it might mean that more people will want to leave reviews. Show that you remember them, let them know you appreciate them and would love for them to visit your business again.
If you haven't been responding to reviews until now, there's no better time to start than the present! Even if there are reviews sitting there that were posted a year ago, why not respond to them? Admit that you haven't seen their review until now, apologise and thank them for their lovely comment. Don't shy away from admitting that you've been a little lax with responses, just make sure you say it in a way that doesn't sound like you don't or didn't care.
Then, make sure you keep up on responding to new reviews.
How are these reviews helping your business?
In a nut shell, reviews show your potential customers that what you're saying isn't just hot air. You can tell them you are the country's leading experts on plumbing and heating, but why should they believe you? You've shown them no evidence to and there are 20 other companies in the area that have proof in the form of reviews. It can be very difficult to get those reviews in the first place, but it's something you shouldn't be neglecting.
Think about when you try to find a business to do some work; you'll likely Google them and take a look at their reviews. If they have none then you might not go with them (the same as if their reviews are all negative). Companies with positive reviews show that they are genuine, that people have worked with them and that they can be trusted. Trust is something that goes a long way in business and with the rise of websites like Trustpilot, reviews are key.
Don't get frustrated if someone leaves a bad review; sure it's annoying, but take it as an opportunity to look at how you run your business. If it's a personal vendetta or a one off issue, then maybe pay it little heed, but if it's a genuine problem with your staff, with the way the service was carried out or a more "general" negative response, it would be wise to look into making sure it doesn't happen again. Then, tell the customer you've done that/are going to do that! Perhaps it won't impress them, but it might impress some potential customers that were worried about whatever the original reviewer had pointed out.
All in all, make reviews one of your priorities! Ask your customers for feedback and respond to that feedback when it pops up, whether it's good or bad. This will help improve your business, as well as your off site SEO.